Sponsored by:
Welcome to the Aspen Glow quilt along! Over the next three months, we'll be putting together quilts based on our popular Aspen Glow pattern. Join us any time and share your photos in our Flickr Group to be entered into drawings for fabulous prizes! You can access any of the previous posts on our QAL Information Page.
Please excuse the light post this week - it was a migraine week for me and the computer screen and I aren't quite friends yet.
Block C is our most complex block to date, but don't let that worry you. It's really just 3/4s of a square-in-square block ...
... plus a rectangular block similar to
last week's block
. You can use the same painter's trick to sew the diagonals too!
While there's several steps involved in putting Block C together, they're both easy pieces to sew and there are no seams to line up! Awesome, right?
Be sure to share pictures of your quilt blocks and fabric choices in our
Flickr Group
and stop by and introduce yourself on our
discussion board
, if you haven't already! If you have any questions or would like to share a blog post about your Aspen Glow project, just leave a comment below.
Just as a side note - the King Fire - a
87,000 acre wild fire
continues to burn in our neighboring county of El Dorado. The fire is burning along the steep canyons and ravines along the American River between Sacramento and Lake Tahoe. As of Friday night, it was only 10% contained, with over 12,000 homes threatened.
Smoke has been flooding the valley.
Steve Ellsworth
shared this incredible photo of the "pyrocumulous" clouds visible over Lake Tahoe. It almost looks like the aftermath of an atomic bomb.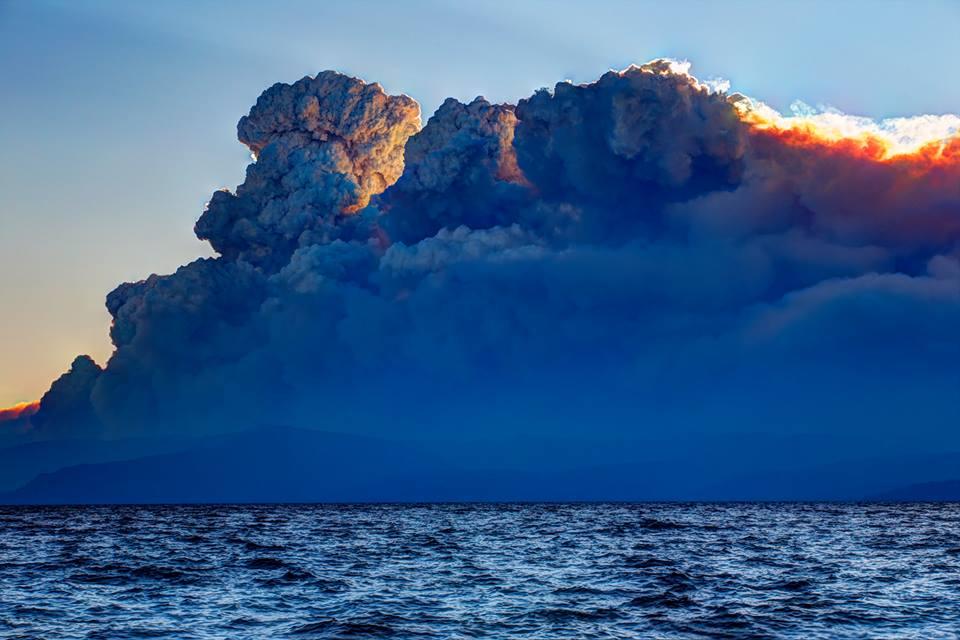 Photo Credit: Steve Ellsworth
Just to give you an idea of how "orange" it is outside, the photo below was taken at the same time of day, in the same room, as the photos above, taken last week. The photos above only had very minor editing.
Please keep our brave fire-fighters and displaced neighbors in your thoughts and prayers.
Red Cross is accepting donations
to help those that have been evacuated and have lost their homes.